Sports Injuries Rehab in Sarasota, FL: Pain Relief Starts with Our Clinic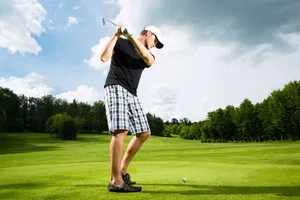 Sports injuries can strike any athlete without warning and lead to more problems than simply missing a few games or being sidelined for a season. Without proper rehabilitation, a sports injury can lead to long-term chronic pain.
Getting chiropractic care is a smart option for pain relief and rehab for all types of sports injuries in Sarasota, FL.
Chiropractic techniques are designed to help the body properly heal and reduce the risk for future injuries. Healing following a sports injury in Sarasota, FL requires integrating multiple treatments and therapies to address both the injury and any hidden causes for lingering pain. Involving our chiropractor in the rehabilitation process is a critical part of that total care package.
Our Approach: Sarasota Athletes Benefit from Chiropractic Care
Recovering from any sports injury starts with identifying the root cause for pain. Golf injuries, football injuries, or other kinds of sport injuries may boil down to something as simple as a misaligned spine. Spinal misalignment can often go undiagnosed and can lead to multiple injuries ranging from sprained ankles to tennis elbow.
When the spine is misaligned, it causes the body to compensate by shifting movements to favor certain muscles over others. This can strain ligaments, tendons and other connective tissues in key joints and lead to repetitive motion injuries, strains, sprains, or tears.
Common Sports Injuries We Treat
Common athletic injuries include tennis elbow, sprained ankles, and knee problems. Tennis elbow results from inflamed tendons in the elbow, caused by an improper swinging motion while playing with a tennis racket. Sprained ankles or knee problems result when ligaments are stretched or torn while running and jumping. All of these problems can be traced back to spine misalignment.
Restoring proper alignment will help eliminate the root causes behind the original injuries. Athletes working with our chiropractor, Dr. Kozma, learn to use corrective exercises that expunge improper motion and help the body learn how to swing, run, and jump the right way. This will make it easier to prevent future pain and limit the risk of future injury.
Our chiropractor, Dr. Kozma, also works with athletes to promote natural healing through physical therapy. This treatment starts with reducing swelling and adjusting the knee, foot, or ankle to restore proper alignment and provide immediate pain relief. Then we work on strengthening muscles surrounding the injured area. Strengthening muscles helps protect injured soft tissues and also restores a full range of motion to injured areas.
Chiropractic care can be used to help you rehab from all sorts sports injuries, from golf injuries to basketball injuries. Spinal adjustments can relieve pressure on other areas of the body and help prevent future injuries while enhancing the body's ability to recover from current ones. Our chiropractic care goes beyond adjustments to also incorporate corrective exercises, and any other treatment that helps get you back on your feet.
Never let a sports injury keep you on the sidelines. Get back in the game with help from chiropractic care!
Contact us today to schedule an appointment!